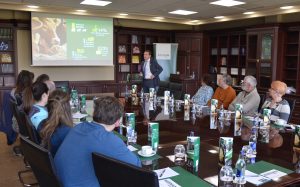 U.S. dairy farmers visiting the headquarters for KEENAN Systems in Dublin, Ireland, learned more about MechFiber and the impact it can make on a dairy herd.
KEENAN Corporate Marketing Manager Martin Minchen shared that the concept, developed in 2008, has been a key value proposition for the company globally. The focus is on consistent fiber lengths and an even mix that encourages rumination and feed efficiency. The company's newest development is the InTouch app controller, connecting the farmer to a nutrient specialist at any time.
"The company developed MechFiber. That was one step in terms of the physical mix," said Minchen. "But delivering that consistently is crucial, so they set about using their own in-house team of software engineers developing an InTouch platform which was launched by the company in 2009 and since then has undergone various updates and with the latest ones being the app that was released in 2018."
Minchen said almost 300,000 cows are currently part of that system, which is unique to KEENAN Systems.
"We can analyze real time data, mixer performance, if feed is over or under mixed, if the farmer has been adding the right ingredients, how long the feeder has been working, and then we can get the output data back from the cows so if the nutritionist noticed that cow output may have dropped on farm, they can proactively call the farmer," he said.
Listen to Jamie's interview here: Interview with Martin Minchen, KEENAN Systems