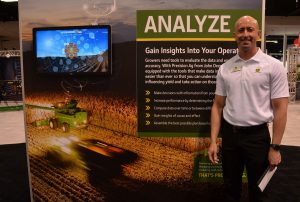 As more and more equipment will gather information for its farmer customers, John Deere is taking that data and the questions about privacy that go along with it very seriously.
"Data is becoming increasingly important for our customers. If you look over the past five years, data has really become a prominent part of the conversation, because customers understand how it can be utilized to make their operation better," said Matt Olsen, product marketing manager for precision agriculture.
Olsen said the company recognizes that with the transfer of information comes privacy concerns for farmers. John Deere is working to maintain integrity through this age of information in a number of ways, including recent certification as an American Farm Bureau Ag Data Transparent company. The certification allows customers to better understand how their data is being used by the provider.
Listen to Jamie's interview with Matt here: Interview with Matt Olsen, John Deere