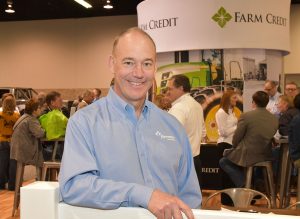 After a couple of tough years, farmers attending this year's Commodity Classic in Anaheim were hopeful of better days ahead when it comes to the economics of their operations.
"I think what we're hearing here is some slight optimism," said Tom Sloma, Jr., Senior Vice President of Financial Services at Farm Credit Mid-America. "The last three years have been a challenge, I think, for lots of operations. They had the low commodity prices, and what does that mean to their operation? How do we come out of some of the very best years we've had about five or six years ago and adjust the operations appropriately so that we can make sure we have staying power for the next three to five years? And as things cycle in agriculture, we'll come out of this and then look at how to grow those operations either for ourselves or for the next generation that comes into farming."
Sloma said now is the time for farmers to plan their financial forecasts for the next year. He encouraged them to get that meeting on the calendar and then revisit the plan quarterly to ensure the business strategy they have in place is viable for the long term.
Listen to Chuck's interview with Tom here: Interview with Tom Sloma, Jr., Farm Credit Mid-America