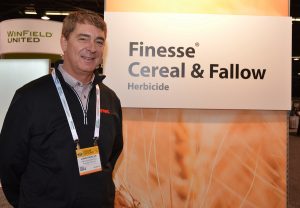 FMC's acquisition of a portion of DuPont's crop protection business expands the portfolio available to wheat and cereal crop producers in places like Montana and the Dakotas.
"The value in the short term means more tools," said John Raisler, FMC Retail Market Manager for the Northern Plains. "Over the long term, that's what is the most exciting. Looking at some of the things that are in the pipeline that FMC acquired and some of what FMC themselves had in their pipeline that will be coming along, it's new modes of action. It's a great opportunity to look at what we can do in the future as far as battling resistance because it isn't going away."
Raisler said the acquisition expands the portfolio, providing good tools to use for burn down in both spring and fall, and in crop in cereals.
Listen to Chuck's interview with John here: Interview with John Raisler, FMC