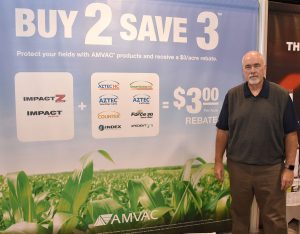 AMVAC Chemical Corporation is offering growers a Buy 2 Save 3 = $3/acre rebate when they choose a qualifying granular or liquid insecticide and pair it with Impact or ImpactZTM corn herbicide.
"We have a wide range of insecticide options familiar to growers," said Jim Lappin, AMVAC crop marketing manager for corn and soybeans. "Depending on your weeds and your needs, you can combine one of our insecticides with one of our herbicides, fit the way you farm, and save some money."
Qualifying granular and liquid insecticides include the following:
– Aztec®HC Higher Concentration Granules
– Aztec 4.67G SmartBox®
– Aztec 4.67 Bags
– SmartChoice®HC Higher Concentration Granules
– Counter® Insecticide
– Force® 3G SmartBox
– IndexTM Liquid At-Plant Insecticide
– Xpedient® Plus™V Insecticide
Growers can learn more at http://www.buy2save3.com/.
Listen to Chuck's interview with Jim Lappin here: Interview with Jim Lappin, AMVAC