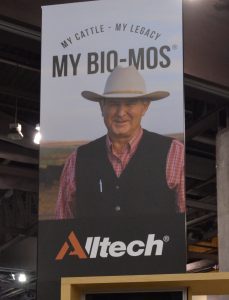 When it comes to gut health in cattle, a tried and true product from Alltech is Bio-Mos. The 2018 Cattle Industry Convention was a great spot for us to get a refresher on how this product is performing in the field and at the bunk.
"You will see an increase in immune response, a reduction of those bad bugs, you will see an increase in feed efficiency, health of the animal and immunoglobulin levels in colostrum. Overall, it is just a great product to add to your operation," said Zach Postin, Alltech Sales Representative.
Bio-Mos comes in a concentrated form which is mixed into fields, in a mineral or in a crumble to serve as a top-dressing or mixed on the farm.
Postin said stressed situations are seen at all stages of the growing process. Cow/calf operations can feed it right before and after calving. It should also be fed right before and after weaning to keep gut regulated. At the stocker level, Postin said it's also great for ensuring smooth transitions.
Listen to my complete interview with Zach here: Interview with Zach Postin, Alltech