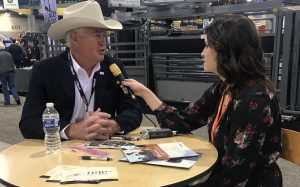 Mineral management is changing, thanks to research in nutrition and genomics. Butch Whitman is an Alltech beef nutritionist who was at the 2018 Cattle Industry Convention and National Cattlemen's Beef Association Trade Show in Phoenix.
Whitman said research at Alltech's Center for Nutrigenomics and Applied Animal Nutrition looks at how nutrients impact the expression of genes. That includes what nutrients are essential for genes that control the immune system and animal health, feed digestion, growth feed efficiency, or even at the cellular level for composition as far as fat or muscling. Producers can follow Alltech's Blueprint Beef Nutrition program, targeted for the needs of the animal at various stages of the production cycle.
"What we used to do is feed cattle a feed, we'd see a response and we'd take the next 10 years trying to figure out why. How it worked, what was the right level to feed," said Whitman. "The [Alltech] Nutrigenomics lab has a lot of applications to producers because it's identified what we expect to do up front as far as how nutrients impact gene expression. So when we go to the field for either live cattle research, we're going to the producer or the customer, we've got a pretty good idea of what we expect to achieve."
Whitman said it's an exciting change in animal nutrition that should bring new technology to customers much more quickly.
Listen to Jamie's interview with Butch Whitman here: Butch Whitman, Alltech