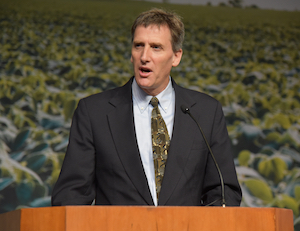 Jason Hafemeister, Acting Deputy Under Secretary for Trade & Foreign Agricultural Affairs at the U.S. Department of Agriculture (USDA) addressed the attendees of the 2017 U.S. Soy Global Trade Exchange, bringing a message of greater trade opportunities for America's farmers.
"A substantial part of our farm income comes from foreign markets," said Hafemeister. "So we at the department are always looking for ways to expand and grow on foreign market opportunities and we're happy to have a chance to meet with potential buyers here today to talk about the virtues of American products. We're a reliable supplier of high-quality product and can compete on price. This is a good opportunity to remind folks of that."
Rural America needs a strong farm base for it's economic stability, and growth in rural areas increases the health of the overall economy. According to Hafemeister, one of the best ways to do that is to improve the customer base by removing barriers for trade around the world.  Currently the USDA is meeting with Canada and Mexico to improve NAFTA. Their first goal is to do no harm, but also to improve trade access, specifically into Canada with poultry and dairy. Removing barriers to China, Japan, and Vietnam are also high on Hafemeister's list.
"Prices go up and prices go down," Hafemeister said, but broadening the customer base takes pressure off domestic supply and will help address the current difficult climate.
To hear more, listen to Jamie's full interview here: Interview with Jason Hafemeister, USDA
You can find photos from the event here: U.S. Soy Global Trade Exchange Photo Album