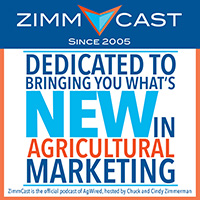 Several organizations have come together on a program to enhance farm sustainability through soil health. And they are very happy to announce additional backing from a major food manufacturer – General Mills. These organizations are working to advance soil health on America's farms and ranches, paving the way for measurable economic and environmental gains for farmers, businesses and communities for generations to come.
To help ensure soil health, General Mills has made a three-year, $2 million commitment to The Nature Conservancy, Soil Health Institute and Soil Health Partnership to support the development of tools and resources for farmers, landowners, and supply chain leaders to achieve widespread adoption of soil health practices.
"Soil health is critical for everyone including farmers, farm communities, consumers, and companies," said Jerry Lynch, Chief Sustainability Officer at General Mills. "We are grateful to partner with farmers in our supply chain in their ongoing work to build healthy soils, and welcome further collaboration with all interested parties in the value chain."
Collaborating across business, science and policy sectors will help achieve meaningful soil health outcomes more quickly and at an unprecedented scale. Specifically, these organizations will partner to:
Improve soil health measurements and standards;
Increase support for soil health practice adoption by absentee landowners
Target, plan and expand the field network of on-farm demonstration sites
Coordinate soil health activities and communications for maximum impact
Mobilize and support diverse constituents in advancing public policy solutions
Jamie Johansen spoke with Wayne Honeycutt, President and CEO of the Soil Health Institute about this initiative.
"The needs for advancing soil health are far greater than any single organization can provide – public or private," said Honeycutt. "Soil health management systems can build resilience to drought as well as provide protection from other extreme weather events, such as flooding. In fact, when we increase soil organic carbon by a single percent – just 1 percent – we increase soil water-holding capacity by approximately 2,500 to 12,000 gallons per acre in many agricultural soils. These same soil health practices that are good for farmers can also improve water quality, reduce greenhouse gas emissions, and enhance pollinator and other wildlife habitat. Partnering is the way we can achieve national scale of such benefits."
Listen to the ZimmCast with to learn more here: ZimmCast with Wayne Honeycutt, Soil Health Insitutue
Subscribe to the ZimmCast podcast here. Use this url in iTunes or your favorite news reader program/app.