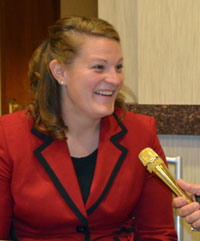 As one of the new board members for the U.S. Farmers and Ranchers Alliance (USFRA), Katie Brenny representing the Federation of State Beef Councils got the gold mic treatment at last week's meeting in Kansas City.
Katie and her husband Ted live on a beef farm outside of Mazeppa, Minnesota where they raise Charolais and Angus cattle, and she says USFRA is helping beef producers like her reach consumers in more ways than ever before. "I truly think it's what the research shows and how can we tweak things to just constantly improve," she said.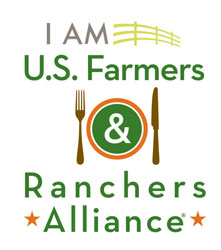 Her favorite USFRA projects so far have been the FARMLAND movie and Faces of Farming and Ranching. "As a millennial, I think it's awesome to see friends of mine become Faces or people I know in FARMLAND to become movie stars, to really promote agriculture," said Brenny.
Over the past six years of USFRA's existence the organization has grown to include 100 agricultural organizations and companies, both small and large, and Brenny hopes to see that growth continue. "If you're selling tires or plastic to a food company, the opportunities for companies to be involved is endless," she said. "What we're doing is really sharing good information and research and creating brand strategies to continue these stories and have a face to face conversation."
Katie replaces Dawn Caldwell on the newly appointed USFRA board. Get to know Katie better in this interview: Interview with Katie Brenny, USFRA board member
USFRA 2016 Fall Board Meeting photos