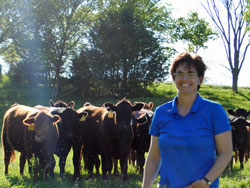 Dawn Caldwell is a very busy woman. Besides helping to run her family's cow-calf operation in north central Kansas, not far from where they live in Clay County, Nebraska, the wife and mother of two works as head of governmental affairs for the Aurora Cooperative. In addition, she serves on the board of the Federation of State Beef Councils, and is treasurer of the U.S. Farmers and Ranchers Alliance (USFRA). Oh, and she's also the Lady of Ag blogger in her spare time, whenever that is!
As a cattle producer, Dawn believes that USFRA is doing something that no single organization can do alone – dialogue with consumers about what agriculture is and does. "This is the one place where all of agriculture comes together as a community to send that good message about what very few of us in the country are doing to help keep food and fuel and fiber available," she said. "Individually we can do good things, together we can do really great things."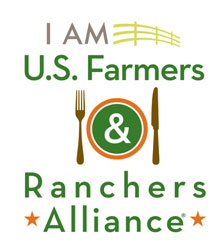 Dawn says that USFRA has been actively involved in addressing consumer concerns that directly relate to the beef cattle industry through Food Dialogues. "The top two questions we get are the use of hormones and the use of antibiotics," she said. "We had one of my fellow Nebraska producers sit on a Food Dialogues panel in New York… and it ended up being a wonderful dialogue opening situation."
She's also pleased with what USFRA has been doing to reach out to school children in a variety of ways, such as the upcoming Virtual Field Trip, building off the successful documentary movie FARMLAND. "That's given us a wonderful foundation, now with Discovery Education utilizing it in classrooms for science in high schools throughout the United States," she said.
In this interview, Dawn shares more about how USFRA is helping farmers and ranchers share their story with consumers: Interview with Dawn Caldwell, Nebraska cattle producer