Hi! I'm Lizzy Schultz, the summer intern for AgWired. I'm joining Chuck and Cindy this week with the coverage of the 2015 Ag Media Summit in Scottsdale, AZ. I will also be joining them next month at the Farm Progress Show in DeKalb, IL. I come to the team from the Midwest; Madison, Wisconsin has been home for my entire life. I graduated with an animal science degree from the University of Wisconsin-Madison in 2013. I have also shown American Saddlebred horses my entire life, and winning a world championship title with my horse Luke at our 2013 World Championships in Louisville, KY will always be a highlight of my life.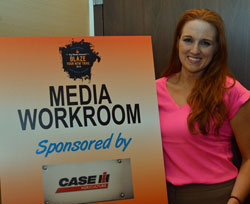 My interest in agriculture was sparked by a class I took in college on livestock production. I instantly knew I wanted to study animal science and be a part of the industry, and I truly enjoy learning about every diverse niche and division of it. My interest in journalism came to me when my dad, a well-known reporter for a respected newspaper in Madison, encouraged me to start freelancing for a weekly farm paper after graduation. I loved being able to tell the amazing stories of our producers, and using them to start conversations with consumers about the industry that is so separated from their own lives. It amazed me how interested people truly are in the industry, it just takes the right story to get the conversation started!
This internship is going to be a fantastic learning experience for me. I am already learning so much about the inner workings of the communications industry, and how a blog is run and managed. Chuck and Cindy have experience in so many areas of communications, and I am really looking forward to the training they are giving me. I am interested in eventually becoming involved in agricultural policy, and want to have strong communications skills in order to help consumers feel accurately informed and involved in the way the industry runs. I feel so lucky to have this opportunity to work with such experienced professionals, and I'm so excited for the rest of my time with them!