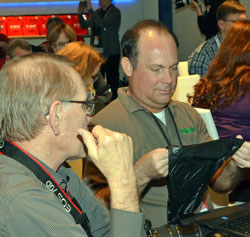 You might recall that we first told you about BASF ecovio® compostable polymer after the ASTA CSS meeting in December. That was the first we heard about this amazing material that has a variety of agricultural applications and at the Science Behind event on Wednesday agricultural media got to touch and feel it and learn more about it.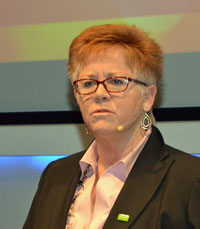 Ruth Watts with BASF's Biopolymers Group in North America highlighted the use of this material for mulch applications. "The molecular structure is designed specifically to be designed to be recognized as food for microbes (in soil) … it basically becomes biomass, CO2 and water," Watts explains.
Which makes it a more sustainable, environmentally-friendly mulch film, which is traditionally polyethylene and used for weed and water management and maximizing soil quality. It's been used in Asia and Europe for a couple of years already and Watts says it is now available in the United States, particularly for high value fruit and vegetable crops like tomatoes, peppers, and melons.
Learn more about ecovio in Ruth's short presentation at the Science Behind and my interview with her: Ruth Watts, BASF Biopolymers Group, at the Science Behind Interview with Ruth Watts, BASF Biopolymers Group
Stay tuned to find out what's new from this 150 year old company!

2015 BASF Science Behind Photos