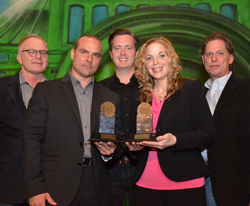 The stars were out last night in Jacksonville, Florida as the National Agri-Marketing Association (NAMA) presented its annual Best of NAMA Awards for excellence in agri-marketing at the annual convention.
The Best of Show winner in the advertising category was Wyffels Hybrids and agency O&H Brand Design, Musta/Melzer, In-House – Travis Hopper (O&H Brand Design), Tim Musta & Jim Melzer – (Musta/Melzer).
Jeff Hartz, front and center here with his team, was also named the 2014 NAMA Marketer of the Year. Congratulations to Wyffles!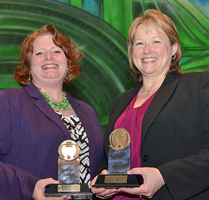 In the Public Relations category, the winner was the National Pork Board and agency NewsWorks. Big congrats there to our friends Leah Daniels and Cindy Cunningham, well deserved!
This is the 55th year for the annual competition and a total of 65 awards were presented. Among the companies that won multiple first place awards were Bayer CropScience and Zoetis with five each; DuPont Pioneer, U.S. Apple Association, and WinField with three each. Agencies that won multiple top awards included MacClaren McCann with five; Bader Rutter, Colle+McVoy, and The Meyocks Group with four each.
Congrats to everyone!