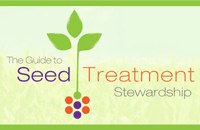 We first heard about "The Guide to Seed Treatment Stewardship" last year at Commodity Classic.
The second phase roll out of the guide – produced by the American Seed Trade Association (ASTA) in collaboration with organizations like the National Corn Growers Association, American Soybean Association and American Farm Bureau – began this year and we heard more about it from ASTA VP for Government and Regulatory Affairs Jane DeMarchi.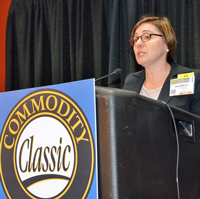 "The Guide to Seed Treatment Stewardship was created to touch all aspects of seed applied technology," said Jane. "Our goal is to emphasize stewardship practices across crops and treatment segments and to minimize the risk of seed dust exposure to pollinators."
Jane says they have developed videos about seed treatment stewardship and began taking them on the road this year to state and national corn, soybean and farm bureau meetings, and she says awareness of pollinator issues is growing among farmers across the country.
Learn more here: Press conference with Jane DeMarchi, ASTA
2014 Commodity Classic Photos