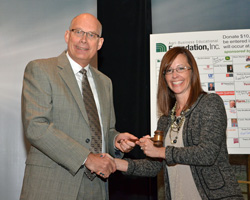 Leadership within an organization is key to it's success and the National Agri-Marketing Association has gone above and beyond to ensure their leadership is a cut above. During NAMA Fall Conference business was carried out, professional development sessions took place and the gavel was passed down the ranks to the upcoming president.
Paul Redhage with FMC and outgoing NAMA President, talked with Chuck about changes that were made during the recent board meeting and then looked back on his term as president of the national organization.
"Well, there are about four or five. Number one is that we are in good financial shape. Part of that is the economy of agriculture, but part of it is from some things we have done as an organization to be prepared. The second area is when it comes to the strategic plan and membership development has been a key effort there. One thing I am personally proud of is I helped establish the young professionals membership."
Listen to Chuck's interview with Paul here: Interview with Paul Redhage
Coming up the ranks as the new NAMA President is Kenna Rathai. The passing of the gavel took place during the fall conference in St. Louis, but Kenna will officially take the title as president in January.
"First, I am very excited to lead an amazing group of ag marketers at an incredible time in agriculture. One thing that we will continue to do is move our strategic plan forward. That includes communication with members, strategic alliances within the industry and also reaching out to non-traditional audiences. But another challenge I would like to throw out to members is to get engaged with the organization. We want more members to be active, whether that is at the chapter or national levels. We want to see new volunteers on committees and more attendance at programs."
Listen to Chuck's interview with Kenna here: Interview with Kenna Rathai