Hello and welcome to the ZimmCast. In this week's program I'm sharing a conversation with Brian Arnall, Oklahoma State University. Brian was one of the presenters at the 2013 InfoAg Conference on precision agriculture.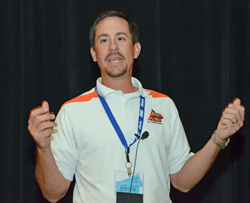 Brian's presentation topic was "Ag Apps for Smart Phones and Tablets." That certainly got my attention.
Brian is keeping a list of apps he finds that are focused on agriculture and it's growing fast. When he was asked to do this presentation in January his list (narrowed by topics he's concerned with) had about 20 apps on it. By last week's conference he was at 50 and added 4 the morning of his presentation! I hope you'll enjoy hearing some of his thoughts.
Listen to this week's ZimmCast here: Apps for Ag
2013 InfoAg Conference Photo Album
Thanks to our ZimmCast sponsors, GROWMARK, locally owned, globally strong and Monsanto, Roundup Ready Plus, for their support.