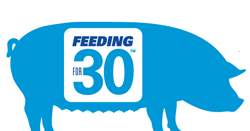 At World Pork Expo, Purina Animal Nutrition was celebrating the first anniversary of its Feeding for 30 program, adding new partners to further the the industry goal of achieving 30 pigs per sow per year.
We launched it one year ago in partnership with Zinpro," says Elena Lindemann, lactating livestock marketing director with Purina Animal Nutrition. "And this year we added another partner, DSM Nutritional Products."
"When we created the Feeding for 30 program, we knew that properly feeding sows promotes their health and well-being – allowing better potential of achieving 30 healthy piglets weaned each year," she added.
At World Pork Expo, Feeding for 30 presented a sow nutrition and management seminar designed to help producers achieve 30 pigs per sow per year. Organized as an interactive peer-to-peer forum, a panel of pork producers and swine nutritionists shared new tips and management insights, and answer questions. Producers can find out more at FeedingFor30.com and on their Facebook page.
Listen to my interview with Elena here: Interview with Purina's Elena Lindemann