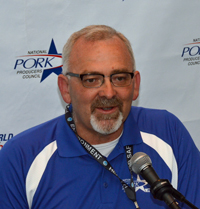 National Pork Producers Council president Randy Spronk of Minnesota welcomed the media to the 25th anniversary of World Pork Expo on Wednesday morning in Des Moines with an update on what is new at the show.
"We expect to have around 25,000 attend the expo over the next three days," Spronk said. "One of the neatest things is we have nearly 900 entrants with 2500 hogs in the World Pork Expo Junior National hog show. Three years ago, we just had 300."
Spronk also commented on some of the trade, environmental and legislative issues impacting hog farmers, including the farm bill and the latest on the EPA.
Spronk's comments here: Opening comments from NPPC president Randy Spronk
Visit the 2013 World Pork Expo photo album.