A University of Illinois professor who spent his lifetime contributing to the livestock nutrition industry was honored at World Pork Expo earlier this month.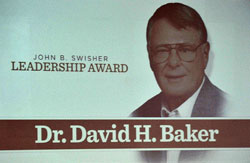 JBS United recognized the contributions of Dr. David H. Baker as this year's John B. Swisher Leadership Award Winner. Dr. Baker's family accepted the post humus award in his honor on June 5 at the Expo in Des Moines.
The John B. Swisher Annual Leadership Award (by JBS United, Inc.) is an honor presented to an individual who exemplifies extraordinary leadership qualities and who has made an outstanding contribution to the advancement of the swine industry.
Throughout Baker's career, he provided over 40 years of contributions to the animal and human nutrition industry. His work has helped improve the quality of livestock feed, led to the production of chemically defined diets for use in animal research studies, and increased the understanding of diseases caused by vitamin and mineral deficiencies.
With 451 peer-reviewed publications, six major awards from the American Society of Animal Science and five from the Poultry Science Association, Baker's lifelong commitment has fundamentally advanced the scientific community in the fields of animal nutrition.
Baker's work has been recognized by the University of Illinois, which named Baker a University Scholar, and the U.S. Department of Agriculture, which presented Baker with the Distinguished Service Award.

2012 World Pork Expo Photo Album