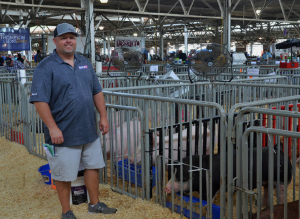 The World Pork Expo Junior National competition set another record this year with nearly 1,200 youth from 32 states, up from 1,050 last year, and 2,800 live hogs exhibited, an increase of 300 from 2017. Helping many of those exhibitors breed the best animals they can is what Show-Rite feeds does best.
Show-Rite Ambassador James Backman said it begins with the right genetics, but nutrition programs are vitally important. Backman said when it comes to a show like the World Pork Expo, many exhibitors have traveled many miles, and each animal will handle the trip differently.
"The most important thing is keeping those animals hydrated. Obviously, muscle has a high percentage of water or moisture in it, and if we can keep those animals hydrated, that's going to help them stay on feed. That's going to help them keep that fresh, bloomy look," said Backman, who noted some of the Show-Rite products that can help exhibitors to do that.
Backman said the current trend in show pigs includes animals with taller shoulders, a unique neck set on the top of the shoulder blade, and animals that stay square to the ground. Then judges will look for shape and width that doesn't compromise the design of the animal.
Listen to Jamie's interview with James here: Interview with James Backman, Show-Rite