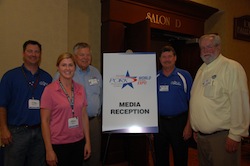 This year marks the 25th year of the World Pork Expo and the event is sure to be a success. More than 20,000 pork producers and industry representatives from 39 countries will be on hand for the opening today presented by the National Pork Producers Council (NPPC). According to the Expo's new General Manager, Alicia Irlbeck, the event is the world's largest pork-specific trade show with more than 400 commercial exhibits.
Irlbeck said the Iowa State Fairgrounds will be the place to be this week, whether your a pork producer, member of the industry, pork enthusiast or child – there is something for everyone. In fact, the World Pork Expo Junior National has set another record this year, with 856 junior exhibitors from throughout the U.S. entering more than 2,500 pigs. This is a 25 percent increase from last year which also was a record breaking year.
In addition to eating some of the best pork on the planet, there are also free business seminar luncheons featuring experts discussing economic and weather outlooks (such as how the delay in corn planting will affect hog operations and prices of pork in 2014). In addition, there is the PORK Academy along with other educational seminars.
And if you have never been to the pig races, or even if you have, this is a tradition not to be missed.
To learn more about the 25th World Pork Expo and some of the cool things to see and do this year, listen to my interview with Alicia: Interview with World Pork Expo GM Alicia Irlbeck
Visit the 2013 World Pork Expo photo album.