BASF Crop Protection has submitted application for the registration of new Engenia™ herbicide, a technologically advanced dicamba formulation.
Farmers will be able to use the new product in combination with other herbicides and agronomic practices, under a weed control system enabled by dicamba-tolerant crops currently in development.
"Farmers fighting against herbicide resistance have an important new tool in Engenia which, field research shows, will offer excellent weed control and crop safety, as well as low-volatility characteristics for improved on-target application," said Paul Rea, Vice President, U.S. Crop Protection, BASF.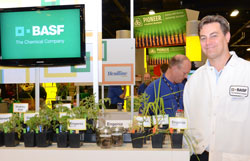 Engenia will deliver broad-spectrum burndown of more than 100 annual broadleaf weeds, including tough, glyphosate-resistant weeds like Palmer amaranth, waterhemp, marestail, velvetleaf, morningglory and giant ragweed. In fact, field research demonstrates that Engenia is more effective than 2,4-D on many problem weeds, such as velvetleaf, marestail, giant ragweed and morningglory.
A registration decision by the U. S. Environmental Protection Agency (EPA) for Engenia is anticipated in a parallel time frame with commercialization of a dicamba-tolerant soybean system.
Commercialization of the dicamba-tolerant system for soybeans is expected in the U.S. mid-decade, with cotton, corn and canola to follow. (Read more from BASF)
We had a chance to see how Engenia works at the 2012 Commodity Classic, with the help of BASF ag biologist Chad Brommer, who explained how the product is researched and tested in the lab. We shot a little video of Chad doing some show-and-tell, which you can see below.