Our ZimmPoll question this week is about what you think will be planted this year (just for corn and soybeans, with our apologies to the wheat and cotton growers), and USDA's Chief Economist gave his answer at the 2012 Agricultural Outlook Forum last week.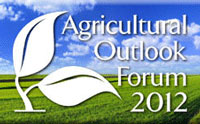 "We're estimating corn plantings at about 94 million acres, the largest plantings since 1944," said Joe Glauber at the forum. "We're projecting soybean area at 75 million acres. That's very similar to last year's levels." Last year, actual planted acres totaled 92.3 million for corn and 75.2 for soybeans, so if Glauber were voting in the ZimmPoll, his answer would be "more corn, less soybeans."
USDA is also predicting wheat acres to increase 3.6 million acres to 58 million and cotton lower at 13 million acres.
This is just USDA's guesstimate at this point. The planting intentions survey of farmers is being done now and results will be released at the end of March. What do you think the answer will be? Vote in the ZimmPoll and let us know!