Would you be surprised to know that many food bloggers aren't real familiar with where the food they write about comes from? Probably not. Most people today do not understand how food is produced and have no real connection to the farm regardless of what kind of food or farm you're talking about.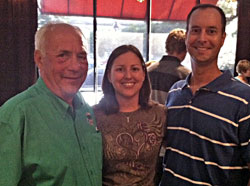 The Iowa Corn Growers have done something about this. Last week they hosted a group of "guest bloggers" to Iowa and I met them during Iowa Corn Indy 250 weekend activities. Pictured in the center is food blogger, Allison Loesch along with her husband on the right and Iowa Corn Promotion Board Chair, Dick Gallagher.
I know that many of you want to know how to reach out to and engage consumers more. How about reaching out to those very involved in social media on the consumer side? In this week's program you will hear Mindy Willamson, Iowa Corn Growers, talk about the group they hosted and from Allison. I think you'll find what they have to say interesting.
Listen in and learn more about food blogging: Guest Blogging with Iowa Corn Growers
If you'd like to get to know this group of guest bloggers here is how you can find and follow them. Their names are links to their blogs:
Hopefully they will join #FoodChat which is the Twitter conversation that takes place the third Tuesday of each month from 8-10pm, ET. All other Tuesday's it is AgChat!
This week's program ends with some music from Music Alley. It's called "Food" by Deirdre Flint.
Thanks to our ZimmCast sponsor, GROWMARK, locally owned, globally strong, for their support.
The ZimmCast is the official weekly podcast of AgWired. Subscribe so you can listen when and where you want. Just go to our Subscribe page.