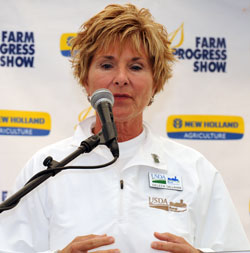 One of the press conferences at Farm Progress Show featured USDA Rural Development. To start it out we heard from Colleen Callahan, Illinois State Director for Rural Development. The former farm broadcaster was very comfortable in the media tent on the other side of the podium! She introduced new USDA Rural Development Under Secretary, Dallas Tonsager.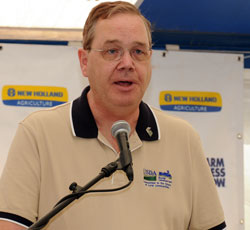 Tonsager used the opportunity to talk about new grants and loans especially in the area of energy and water systems. He says they should be awarding funds for broadband projects soon as well.
Tonsager announced new energy grants and loans across the country totaling more than $13 million. He also announced a large grant and loan totaling $716,000 to South Lawrence Water Corporation as provided under the consolidated Security, Disaster Assistance and continuing Appropriations Act of 2009.
You can listen to the press conference remarks below:
Farm Progress Show Photo Album
AgWired coverage of the 2009 Farm Progress Show
is sponsored by:

and