I thought we'd be able to bring you information about yesterday's CAFTA-DR press conference that included ag group representatives and Sec. of Ag Mike Johannes but we got too busy and weren't on the call.
So . . . I'm going to paste a note about it from the latest Agri-Pulse sent in by Sara Wyant (publisher). She would be happy to have you subscribe to her e-publication by the way.

Farm groups kickoff CAFTA campaign
Agriculture Secretary Mike Johanns and Ag leaders representing more than 50 organizations
rallied behind the Free Trade Agreement with Central America and the Dominican Republic
(CAFTA-DR) yesterday afternoon. In a press conference held at the Ronald Reagan
International Trade Center, the groups touted benefits of the
proposed agreement and downplayed opposition by the sugar
industry. A new coalition study demonstrates that the free trade
agreement provides overwhelming benefits for American agriculture.
In an attempt to sway key members, the study examined the benefits of
CAFTA-DR on a local basis for 40 congressional districts with
significant agricultural production. The study is available at
http://www.nppc.org/hot_topics/40districts.html "At a time when
many key export markets are still closed to U.S. cattle producers,
CAFTA will provide some very welcome new trade opportunities,"
says John Queen, a North Carolina cattleman who serves as vice president of the National
Cattlemen's Beef Association. "This is why cattle producers across the U.S. are rallying for
final passage of CAFTA-DR, and we hope this will be accomplished by year's end."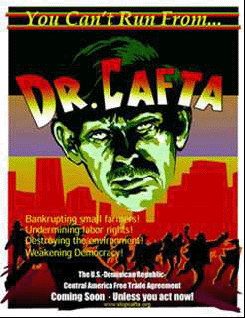 She even had this cool image in her newsletter. I just had to add it.
So what does this have to do with agrimarketing? Just think about how things have changed as international trade has grown and expanded. Decisions about marketing will be affected significantly by the decisions made on the trade level. It affects companies, agencies, organizations and growers! It's important stuff.
Let me know your thoughts on how trade affects agrimarketing.