The Gateway NAMA Chapter leaders (some of them anyway) met for lunch today to begin planning for next year. It was a lunch meeting at Bristol's in St. Louis. Good seafood. I'm getting ready to go work it off at the gym.
Our waitress was kind enough to snap a photo.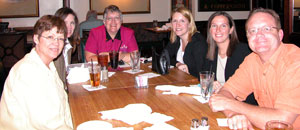 From left to right you'll see Joyce Koranda, Brighton, Chris Leulf, Brighton, Sue Derscheid, American Soybean Association, Becky Rasmussen, National Christmas Tree Association, Maria Findley, Rabo Finance and yours truly.
Our meeting was to begin the planning process for our new officer's slate and programs for the coming year. I'm sure all chapters are just beginning to think this through!