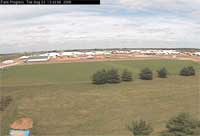 You may have seen this before but I still think it's cool. Maybe AgWired should get a webcam too. I'm just not sure you want to see our work in progress.
Speaking of progress, you can see from the picture, which updates constantly, how things are developing at the the Farm Progress Show. Here's the link to the Progress Cam. AgWired is planning on getting a little help in covering the dialy activities of the show this year since we'll be in Switzerland! But never fear, we'll have some info for you.
I'm sure there are other farm or show cams out there. Point them out to us if you know of them.