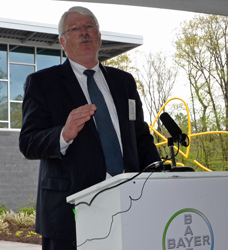 The new Bayer CropScience North America Bee Care Center is important for the future of one of the most critical little contributors to keeping the engine of agriculture running.
"They've been called the spark plug of agriculture," said North Carolina Commissioner of Agriculture Steve Troxler at the grand opening of the center on Tuesday. "If the spark plug's not functioning, neither is the car, so we've got to pay particular attention to our pollinators."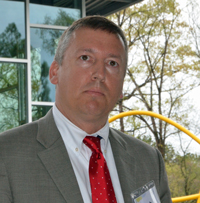 Troxler stressed the vital role that research has in protecting pollinators and ultimately feeding the world. Dr. Richard Linton, Dean College of Agriculture and Life Sciences North Carolina State University, is pleased that the center will provide opportunities for students to achieve the goals of a land grant university. "It's all about producing students for a very important industry of agriculture and it's also about working with our stakeholders on research and outreach efforts," he said.
Listen to my interview with the commissioner and the dean here: Interview with NC Ag Commissioner Steve Troxler and NC State Ag College Dean Rich Linton