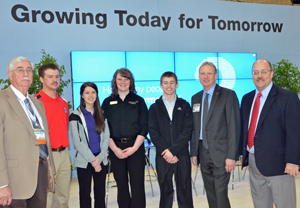 In its second year, the Jerry Minore Memorial Scholarship fund honors students pursuing careers in the agriculture industry. A total of four students will be awarded a $1,000 or $1,500 scholarship.
As a BASF Senior Market Manager, Minore was a liaison to the wheat industry, including the National Association of Wheat Growers (NAWG) and the Foundation, and an advocate for wheat growers, who passed away unexpectedly in February 2012. To honor his advocacy for the wheat industry, BASF partnered with NAWG to fund the scholarships.
"We are pleased to partner with BASF on something that was important to Jerry," said NWF Chairman Jimmie Musick. "This scholarship is a great way to support youth who express interest in the wheat industry and also continue to honor Jerry's legacy."
Lee Moore of Red Springs, North Carolina – a freshman at North Carolina State University, Raleigh, North Carolina, studying agricultural business management.
Trey Heitschmidt of Bushton, Kansas – will be attending Kansas State University, Manhattan, Kansas, in the fall of 2014 and plans on studying agronomy.
Heidi Jamison of Garfield, Washington – a sophomore at the University of Idaho, Moscow, Idaho, studying agribusiness.
Max Mielke of Davenport, Washington – will be attending Washington State University, Pullman, Washington, in the fall of 2014 and plans on studying agricultural economics.
Meet the 2014 winners in this interview: Interview with BASF Wheat Scholarship Winners

BASF at the 2014 Commodity Classic Photos