St. Louis-based Benson Hill has just closed a $150 million Series D funding round led by Wheatsheaf Group and GV (formerly Google Ventures) to scale its commercial operations and its platform food innovation engine CropOS™ across multiple food and ingredients markets.
The company's leading food innovation engine CropOS™ taps nature's genetic diversity to develop and commercialize healthier and more sustainable food and ingredient options that benefit farmers, food companies of all kinds, and ultimately, consumers. This funding round will accelerate the food tech company's efforts to deploy its platform technology, expand partner development across the supply chain, and scale product commercialization efforts.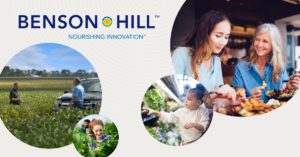 Benson Hill leverages Cloud Biology®, a discipline combining the power of data science, machine learning and AI techniques with plant biology and genomics. CropOS™ is the platform that makes this discipline actionable, significantly accelerating the precision and speed of product development. Benson Hill's technology platform and collaborations empower the creation of healthier and more sustainable feed, food and ingredient options that consumers are seeking, while also delivering strong crop performance that farmers demand.
Benson Hill intends to use this new round of funding to advance Cloud Biology® and its innovation engine CropOS™ and accelerate the commercial launch of the first Ultra-High Protein soybean varieties in 2021, among other product launches. The company's portfolio of soybean varieties offer in-demand premium attributes, such as better digestibility, omega fatty acids, and higher protein to serve the plant-based food, healthy oils, animal feed and aquaculture markets.