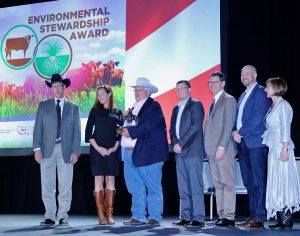 Blackbeard's Ranch in Myakka, FL was named the national winner of the 2019 Environmental Stewardship Award Program this week at the 2020 Cattle Industry Convention and NCBA Trade Show, in San Antonio, TX.
"My family has been in Florida for six generations," said Blackbeard's managing partner Jim Strickland. "We've always been in the cattle business, and we've always taken pride in caring for the land to ensure we're protecting the land, air and water resources that have been entrusted to us"
Today Blackbeard's Ranch, with origins in the Hutches Ranch in the 1930s, is one of the last large intact working cow-calf operations in this part of southwest Florida. The cowherd includes approximately 600 head of Beefmaster, Brangus and Charolais cattle, who pasture just east of the sandy beaches and high rises on the Gulf of Mexico.
CIC2020 ESAP Award winner Jim Strickland, Blackbeard Ranch, FL
4:32
Multi-media content from the convention, including interviews and photos with regional ESAP winners, can be found here:
2020 Cattle Industry Convention and NCBA Trade Show Virtual Newsroom