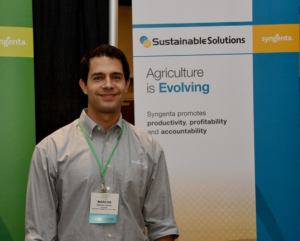 Syngenta is focused on building practical tools for growers and advisors when it comes to technology and data, according to Marcos Castro, business development manager for digital agriculture. Castro shared a number of those tools with those attending the 2019 Ag Media Summit in Minneapolis, including a partnership with Sony on the company's Smart Agriculture platform, the Seed Selector tool, and its FarmShots satellite imaging software, which has helped farmers with flooding reports during the 2019 growing season.
Castro said this is an important time for growers when it comes to digital agriculture.
"I have no doubt that in five to 10 years it will be even more important, but there is a very important journey from here to there. Today in the market there is a lot of hype around digital technologies, and there is also a lot of confusion," he said. "So, growers really need to find the right tools for them to use. That's why we take a grower-centric approach because we don't want growers to get frustrated with technology. We really want technology to be part of their operations in a way that creates real value they can rely on."
Castro said one priority is ensuring different systems developed in the market can connect with one another to provide growers with quality data.
Listen to Chuck's interview with Marcos here: Interview with Marcos Castro, Syngenta