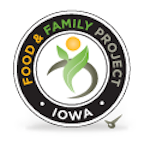 The Iowa Food & Family Project (Iowa FFP) is working together with farmers to serve locally grown food with the launch of it's new campaign, "Homegrown Food.  Hometown Values."
The sentiment draws attention to the locality of food and the commitment of today's farm families to provide that food in a safe and reliable manner that's good for the environment and communities in which it's grown. It will be incorporated in all Iowa FFP messaging and activities.
"Farmers are who we stand behind and good food is what we stand for," said Iowa FFP Coordinator Lindsey Foss. "'Homegrown Food. Hometown Values' emphasizes the commitment of farmers to continually improve while providing wholesome food, much of which is served and enjoyed close to home.
The new project was launched in partnership with Casey's General Store, an Iowa-based company.  Casey's is the country's fifth-largest pizza chain.  It sources meat, eggs, and cheese for the popular breakfast pizza from farms in Iowa and the Midwest.
"It's an ideal partnership because we understand the importance of community," said Casey's Chief Financial Officer Bill Walljasper. "It's quite common to visit a Casey's and see people sitting on folding chairs or cases of soda talking about life or the ups and downs of the market or school events.
"For us, it's critical to establish relationships in our communities," he added. "The Iowa Food & Family Project is a perfect example because it's connecting people with farmers and the quality food they provide that we in turn serve in our stores."
The project also involves partnerships with local farmers.  A YouTube video features Cristen Clark, mom and farmer, who shares her story and spreads the message of agriculture.