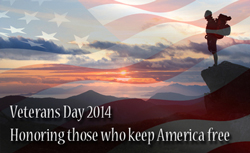 In observance of Veterans Day, USDA and the Corporation for National and Community Service (CNCS) announced partners and projects that will be funded in this fiscal year to provide job and training opportunities to veterans and youth.
"This landmark partnership with AmeriCorps to jointly support service opportunities for youth and veterans is an all-around win for our young people and our public lands," said Agriculture Secretary Tom Vilsack, who frequently notes that the vast majority of those who serve in the U.S. military come from rural areas.
"This is a great example of an innovative partnership that expands economic opportunity for young people, taps the leadership skills of veterans, improves our national forests, and puts a new generation on a lifelong path of service," said Wendy Spencer, chief executive officer of the Corporation for National and Community Service. "Young people and veterans bring extraordinary skill and passion to conservation service, and we are thrilled to join with USDA to expand service opportunities that strengthen our environment and build economic opportunity for those who serve."
The projects will create opportunities for 300 youth and veterans who will serve through AmeriCorps and as part of the 21st Century Conservation Service Corps (21CSC), working to restore and conserve natural and historic resources on National Forests and Grasslands in more than 10 states. The $3.7 million in joint funding for this effort was announced earlier this year.