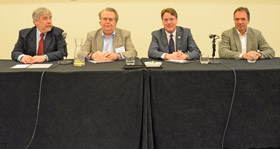 Sustainability is defiantly a buzzword around the agricultural industry. During Animal Agriculture Alliance's Stakeholders Summit on Cracking the Millennial Code a panel was formed to discuss this hot topic.
Two panelist's, Aidan Connolly, Vice President of Corporate Accounts for Alltech and Dr. Rober Cady, Elanco, sat down with Chuck following the discussion to share their definition of environmental sustainability.
Aiden said, "I have always defined it as simply as possible, leaving the land in the same condition with which we received it. Can we produce food and continue to maintain that land and resources at the same level by producing them food."
"Agriculture has a better story to tell. One thing is they have been slow to tell it. Much slower then other parts of our economy. It is about leaving the world better then which we found it. It's also about a balance. There are economic, environment and social issues that come into play. If you get out of balance in any one of those three you're not going to be sustainable," said Rober.
The panel seemed extremely optimistic about agriculture's ability to produce more food even with the necessity to stay sustainable. Listen to them discuss that and more in their complete interview with Chuck here: Interview with Aiden Connolly and Dr. Rober Cady
2014 AAA Stakeholders Summit Photo Album