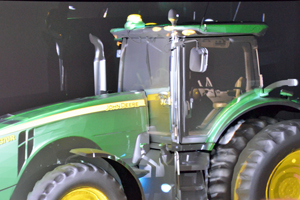 This was SUPER cool!
John Deere did a Virtual Reality introduction of its new 8R tractor for the media here in Columbus, Ohio and it was pretty much the coolest live special effects I've ever seen. The screen was a tractor and the video was projected on and around it to give the 3D effect. It was awesome. That is a virtual tractor here in the photo.
Unfortunately, I was so awestruck that I held my iPhone the wrong way to shoot the video but you can definitely get the idea from the clip below. Check out photos from the first day of the intro which included a ride and drive and the big floor show.