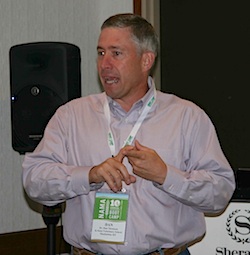 Educating the agricultural industry about other aspects of the agricultural industry is just as important as educating our consumers. And that is exactly what happened at this year's NAMA Boot Camp, held last week in Kansas City. Breakout sessions titled Ag 101 and Ag 201 took place for attendees to hear from experts so they could broaden their knowledge of the community they work in.
Dr. Dan Thomson, Kansas State University Vet School, spoke to the crowd who attended Ag 201 specifically about the beef industry and food safety. I believe an eye-opening moment for many was when Dr. Thomson defined the difference between animals rights, animal activists and animal welfare.
He also stressed the importance of education through hands-on training. This statement brings me back to the FFA Motto. "Learning to Do, Doing to Learn, Earning to Live and Living to Serve." This old message that is taught to high school students across the country still rings true in today's agriculture.
Later in my interview with Dr. Thompson, he expresses his concern on people farming to the audit and explains that assessments are the key to ensuring farming practices are done with food safety and humane practices on the forefront, not audits.
Listen to my interview with Dan here: Interview with Dr. Dan Thomson
Here are photos from the event:2013 NAMA Boot Camp Photo Album