BASF Ag Products spotlighted a couple of very successful and innovative farmers during the Science Behind event prior to Commodity Classic this year. One of them is pretty familiar to us all but the other is a newer face on the farming scene.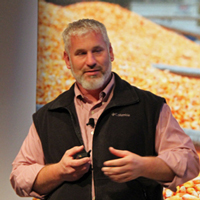 The new kid on the block is Randy Dowdy of Georgia who just got into the farming business in 2006 and has already been a multiple National Corn Yield Contest winner on pretty marginal farm land that he bought as an investment. "University guy told me I had some of the poorest soil in the state," Randy told us. "Now that same university professor told me that I had made him rethink corn production in Georgia."
Randy brought a different perspective to farming in his area. "Having the ability to change and the willingness to change quite often separates a good farmer from an average farmer," he says. That includes using multiple modes of action for herbicides to work against resistant weeds and fungicides are extremely important in the south. "We are in a disease haven," Randy said, noting that he uses several different BASF products to help prevent disease in his crops, including Headline, Headline AMP and Priaxor.
Where most of the country suffered from drought last year, Randy had just the opposite in Georgia. "We had a lot of rain events but our biggest problem was lack of sunshine," he said.
Listen to Randy being interviewed by a couple of reporters at the Science Behind BASF event: Randy Dowdy interview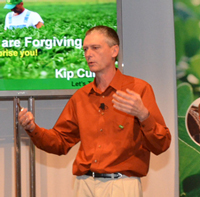 The more familiar face is that of Missouri rock star farmer Kip Cullers, who still holds the title of World Champion Soybean Grower.
Kip wrote the book on being able and willing to change farming practices to get better and better yields, but he still can't control the weather, which hurt him bad last year. "It's kind of heartbreaking when you work all year long and try and do everything right and Mother Nature just cuts the rain off and you're done, but that's farming!" Kip said.
That's why Kip has been the poster child for BASF Headline to keep his crops under the least stress possible, even under stressful conditions like drought. And Kip uses Kixor technology to fight against resistant weeds. "I just hate weeds and once you let them go to seed you have to fight them for the next ten years," he said. "I just want to have sterile ground."
Listen to my interview with Kip here: Kip Cullers interview