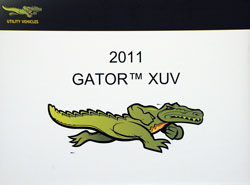 We've got a lot of media types out at Carolina Adventure World to drive the new John Deere Gator XUV's.
We'll be starting off with a briefing in just a few minutes before going to the driving course. There is some very slow internet here at the headquarters building so I probably will be off line most of the day. I'll try to stop back by before leaving for an update this afternoon though.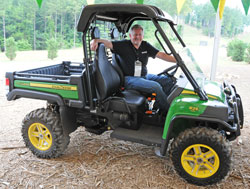 Here's Greg Lamp, Corn and Soybean Digest, on one of the new Gator 825i machines. These will be the ones we're riding today although I heard something about a military application too. More on that later.
In the meantime you can see and hear the launch in my post from last night. So I hope you enjoy.