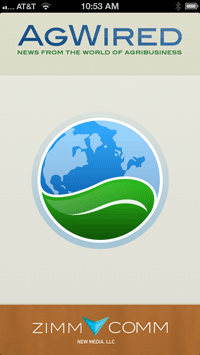 The AgWired App for iOS has been updated. Did you update yours? Or perhaps you don't have our app for your device yet. You can find it in the Apple App Store as well as Google Play.
The AgWired App brings you all of the ZimmComm News Network content that includes AgWired as well as PrecisionPays.com, energy.agwired.com and WorldDairyDiary.com. You can follow us on Twitter in the app and see our latest photos and videos.
This is our third update of our app to account for new devices like the iPhone 5 and we hope you'll enjoy it. If you're going to the NAFB convention this week, the AgWired App is a great way to keep up with our coverage. So regardless of your device (sorry Blackberry folks) get a free app that is simple and brings us to you whenever and wherever you are!