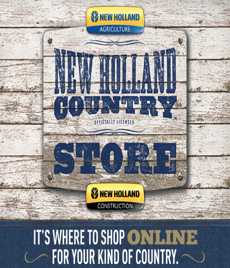 The new, New Holland Country Store website is now online and open for business, says Rich Wiley, Event & Merchandising Manager, New Holland Agriculture and New Holland Construction. The New Holland Country Store exclusively sells officially licensed New Holland merchandise, including apparel, toys, home décor and auto accessories.
According to Wiley, the website was recently redesigned to reflect the New Holland Country brand and provide shoppers with the digital experience of visiting a general store.
"The new store was created with New Holland enthusiasts in mind. It sells hundreds of products that help 'true blue' New Holland owners express their affinity with the New Holland brand," Wiley explains.
Just as important, he says, is that the new website provides a convenient "one-stop shop" for the many New Holland products being offered by the company's officially licensed partners.
"Before the new site was launched, our customers had to visit several sites operated by our partners and suppliers to shop for and buy New Holland merchandise. Now one site, managed by New Holland, sells the complete collection of New Holland merchandise while delivering the total New Holland Country experience," Wiley says.
Wiley says the online store also offers monthly specials, gift certificates and free shipping on orders of $250 or more.