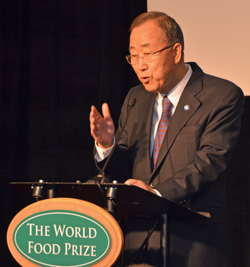 United Nations Secretary-General Ban Ki-moon addressed the big ceremony last night at the World Food Prize and stuck around to also speak at breakfast this morning for those not able (or willing) to attend the gala at the state capitol.
During his brief address at breakfast, Ban talked about how making sure everyone in the world has enough to eat is a mission that all should share. "The United Nations cannot do it alone," he said. "The United States cannot do it alone, let alone the state of Iowa, however much you produce agricultural product."
Ban stressed the importance energy to food security. "Energy is like the golden thread which weaves and connects all the challenges we have – food, water, health and even gender issues," he said. "Therefore we are putting highest priority on energy as part of comprehensively addressing food prices."
Listen to Ban's comments here: UN Secretary-General Ban Ki-moon
View the World Food Prize Photo Album here.
AgWired coverage of the World Food Prize is sponsored by Elanco