This monster planter was too big for the John Deere booth at Commodity Classic this year, but it was still the talk of the town.
The DB120, as the name implies, is a 120 foot planter – the biggest ever. It was introduced at the National Farm Machinery Show last month (see previous post), but it was still too big to be unfolded all the way in the booth. At the Classic, John Deere seed division marketing manager Rob Rippchen took some time to introduce the big boy to the media and point out some of its features.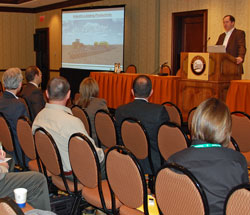 "It's 48 row units, 30 inch centers and 120 foot wide," Rob says. "The picture doesn't do it justice to how big it really is, it's just flat amazing how long and wide it is."
"The planter is 33 percent larger than the DB90 introduced five years ago, which means about 33 percent more productivity for the grower," he says. Base equipment on the planter includes: CCS w/Refuge Plus™, Variable Rate Drive, RowCommand™, SeedStar™ 2 Monitoring, Pneumatic Down Force, Rubber Tire Closing, and Walking Gauge Wheels.
The price tag is $345,000 – which means it's not for every grower, but Rob says it is a market John Deere wants to lead with.
Listen to Rob talk about the DB120 here: cc09-jd-rippchen.MP3