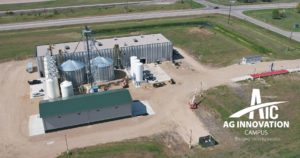 The new Ag Innovation Campus in Crookston, Minnesota is crossing the bridge into production this week with its long-awaited grand opening on Thursday.
"I'm looking forward to bringing everybody together to showcase all the time and energy that has been put into this project," said Minnesota Soybean Research & Promotion Council (MSR&PC) Chair Tom Frisch, who also serves as AIC treasurer. "It's a huge win for Minnesota's agriculture industry."
As a not-for-profit crush facility, the AIC will produce an estimated 240 tons of soybean meal daily, equaling a grand total of 62,400 tons of soybean meal per year. With three independently operated mechanic crush systems, the AIC will be able to crush organic, non-GMO and GMO soybeans.
The crush plant is only the first phase in this three-phase project. Phase two will feature an office complex and research labs. Phase three consists of rentable discovery bays that will be available for short to midterm use. Companies can then use the space to prove their designs at full production scale. The "Crushwalk" will also allow visitors to view the processing facility in a safe and bio secure manner.
"We are super excited about the Grand Opening," said Frisch, who also sits on the United Soybean Board. "Once we get the crushing plant up and running, AIC can start on phase two and three, which will bring the entire vision to life."
Spearheaded by Minnesota's farmers, the AIC is changing Minnesota's agricultural landscape. Expected guests at the AIC's Phase 1 Grand Opening include Minnesota Department of Agriculture Commissioner Thom Petersen; legislators; AIC directors and Acting CEO Tom Slunecka; farmer-leaders; City of Crookston officials; and assorted industry notables.
There is still time to register to attend the grand opening event, which is made possible by the United Soybean Board, Minnesota Soybean, and the soy checkoff. AgWired will be there on the ground to cover it as it happens, so stay tuned!