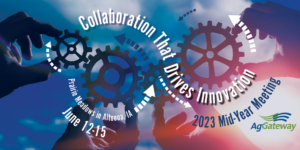 It is almost time for the 2023 AgGateway Mid-Year Meeting and you can still register. To get a preview of the program I spoke with Brent Kemp, President and CEO of AgGateway. Besides some interesting keynote speakers and working group meetings there will be plenty of networking time. That will include racing at Prairie Meadows!
The AgGateway Mid-Year Meeting, June 12-15, 2023, is the place where the work of digital connectivity gets done. Getting together in-person catalyzes the progress that member Working Groups have made to that point on existing projects, while new work is identified and prioritized through Meet-Ups. Ample networking opportunities throughout the event provide time for attendees to share ideas and discuss solutions.
More than 200 stakeholders from across the industry attend the Mid-Year Meeting to gain insight into the state of digital connectivity, and to find out more about the work of AgGateway.
Listen in here to learn more about this year's meeting in my interview with Brent.
2023 AgGateway Mid-Year Meeting Preview 18:13