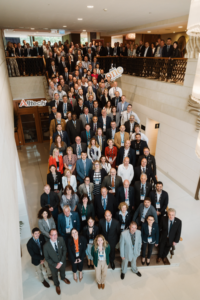 Budapest, Hungary, was the first stop of the Alltech ONE World Tour (ONE) this week, launching a series of international events that will be bringing the ideas and inspiration of the annual Alltech ONE Conference to the world. Discussions explored collaborative solutions to the greatest challenges facing the agri-food industry as it confronts the "4 Cs" — the major forces of climate, conflict, consumer trends and rising costs.
Dr. Mark Lyons, president and CEO of Alltech, welcomed delegates to Budapest and challenged them to think about what comes next for the agri-food industry.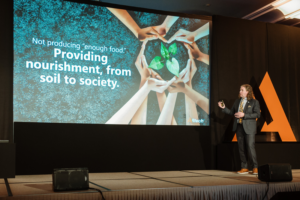 "In times of uncertainty, it is crucial for businesses like ours to adapt and innovate," Lyons said. "The Alltech ONE Conference is no exception. While our annual symposium has had its roots in Kentucky, USA, for four decades, we felt it was important to adapt and engage with our customers on their home ground. Thus, it is only fitting that we launch the Alltech ONE World Tour in Budapest, Hungary, which is at the center of both change and opportunity."
ONE Budapest attendees heard from industry experts on various topics, including insights from the dairy industry, data for profitable and sustainable agriculture, and mycotoxin management, and they were also able to attend focus track sessions on dairy, pigs and poultry. Robert Walker, European growth officer at Alltech, moderated a panel discussion featuring the species focus track speakers, who discussed how to remain profitable amid uncertainty and how the learnings from the day's sessions can be applied to individual operations.
The Alltech ONE World Tour will continue with stops in Dublin, Ireland, on June 19–20 and Calgary, Canada, on July 3–4, then on to the U.S., Asia, South America and the Middle East. For more information and to register for an Alltech ONE World Tour stop, visit one.alltech.com.
Learn more about the World Tour in this interview with Dr. Lyons from the Cattle Industry Convention earlier this year.
Dr. Mark Lyons, Alltech (8:05)