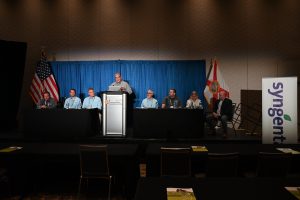 Syngenta had a lot to talk about at the Commodity Classic last week in Orlando.
Paul Minehart, who has been Syngenta Head Crop Protection Communications North America since 2009, told us he will be retiring soon. But first, he moderated the Syngenta crop protection and seeds press conference at Classic, which started off with the big coming-soon announcement about Storen corn herbicide, expected for next year. Mark Kitt, Technical Product Lead for Corn Herbicides, provided an overview of Storen.
Jonathan Furasek, Product Lead for Soybean Herbicides, talked about the success of Tendovo soybean herbicide from Syngenta during its first season of use last year.
Steven Wall, Development Manager for Sustainability gave an update on Syngenta's Cropwise app which helps farmers along their journey to improve sustainable operations.
Syngenta's Head of Federal Government Affairs and Industry Relations Mary Kay Thatcher discussed the Endangered Species Act.
Jason Sparks, Global Seeds Communications Lead, introduced Paul Morano, Head of Cereals at Syngenta-AgriPro
and Jon Rich, Hybrid wheat Operations Head Syngenta-Agripro, to talk about hybrid wheat.
Listen to it all here:
Classic 23 Syngenta press conference (28:00)