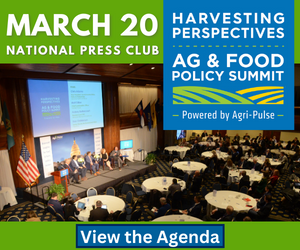 Among the top names confirmed for the highly-anticipated annual 2023 Agri-Pulse Ag & Food Policy Summit are House Agriculture Committee Chairman Glenn "GT" Thompson and Ranking Member David Scott.
The "must-attend" policy event of the year will explore the topc "Next-gen farm and food policy" on March 20 starting at 8:00 am going all day long with lunch and a concluding reception to wrap it up.
"This is a great opportunity to listen and learn about farm and food policy issues from some of the brightest minds in our industry," said Sara Wyant, Agri-Pulse editor and founder. "The event is especially timely as lawmakers ramp up their efforts to write a new farm bill."
The summit will focus on the forward-looking ideas under development that will drive policy discussions for not only this year, but the decades ahead. We'll visit with some of the diverse players who are trying to influence legislation and investment decisions. Plus, we will delve into the availability and sustainability of crucial resources like land, water and crop protection chemicals. View this year's agenda here.
If you can't make it in person to the National Press Club in Washington DC, there's a virtual option as well. Register here.