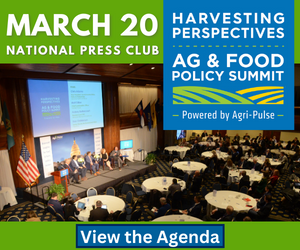 With debate on a new farm bill formally underway, the upcoming 2023 Agri-Pulse Ag & Food Policy Summit will explore some of the forward-looking ideas under development that will drive policy discussions for both this year and the decades ahead.
Sara Wyant, Agri-Pulse editor and founder, says the theme of this year's summit is Next Gen Farm & Food Policy. "It's an opportunity for anybody interested in a farm bill, farm policy, and food policy in general to really come together around some of the new ideas that are emerging," said Wyant.
Agri-Pulse is pleased to welcome the National Council of Farmer Cooperatives (NCFC) as the Platinum sponsor for the 2023 Ag & Food Policy Summit which both offers in-person and virtual attendance. Numerous other organizations and agribusiness companies are also helping to sponsor the event. "It's kind of a who's who of agriculture in one room," said Wyant.
The summit is being held March 20 at The National Press Club in-person with virtual registration options available as well. Click here for registration.
Learn more about the summit in this interview with Sara Wyant.
Agri-Pulse summit preview
(3:45)